Dr. Corey Strunk, Associate Chiropractor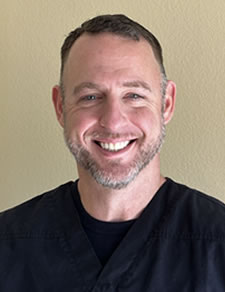 Hello there! I am Dr. Corey Strunk, Associate Chiropractor at Trinity Wellness Center, P.C. I have over 20 years of experience in the health, fitness, and wellness industries and I am very excited to share my experiences and knowledge gained over that time with my patients at TWC. I earned my Bachelor of Exercise and Sports Science from Texas State University in 2003. While obtaining my degree, I worked as a Physical Therapy Aide at Central Texas Medical Center in San Marcos, Texas. I worked in both inpatient and outpatient clinic settings, treating a wide variety of musculoskeletal and neurologic conditions.
Chiropractic Journey
Upon graduation, I became a self-employed Certified Personal Trainer holding multiple national certifications and focused on treatment of muscle imbalances, core strengthening, body composition improvement, and functional fitness for aging populations. In 2011, I began a career working with individuals who had suffered spinal cord injuries and other very serious neurologic conditions with the goal of improving activities of daily living and overall health. During this time, I met several chiropractors who were involved with our patient care and, after some deliberation, I decided to enroll at Parker University in Dallas so I could further my education and my ability to treat patients in all capacities. I graduated Parker University with honors in 2018 and began my chiropractic journey in Denton, TX, where I currently reside.
Outside of the Office
I am still an avid fitness enthusiast and "weekend warrior". I enjoy strength training multiple times a week and have recently added yoga and Pilates into my fitness regimen. I also enjoy a variety of sports and outdoor activities with my 9-year-old son.
I am a proud father, strong Christian, extremely disciplined, and I am always looking to improve myself. I try to lead by example and hope to be an inspiration to my patients by doing so. I view myself as a healer who will do anything I can to help my patients and those that I love achieve their best lives. I want to see more wellness in the world and I want to be a big part of that vision. I am excited to be here and look forward to serving this community for years to come. Be Well!!!
---
Dr. Corey Strunk | (972) 317-9355