Dr. Wilson "Will" Gin, L. Ac., Dipl. of O.M., D. Ac.
Hi! My name is Will and I am a 5th generation practitioner of Oriental Medicine.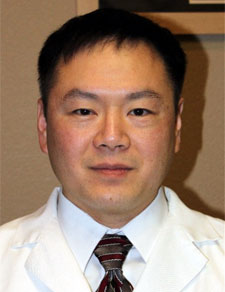 I came to Texas as quickly as I could after being born and raised in Las Vegas. I graduated with an Architecture degree from UT at Arlington. As natural healing and wellness has always been a part of my life, I decided to get formal training in Chinese Medicine after a number of years working in an Architectural consulting firm. I attended the Dallas College of Oriental Medicine and earned a degree as a Master of Oriental Medicine.
Master of Oriental Medicine
I am a Licensed Acupuncturist (L. Ac.) in the State of Texas, nationally certified as a Diplomate of Oriental Medicine from the National Certification Commission for Acupuncture and Oriental Medicine (NCCAOM), and a Doctor of Acupuncture (D. Ac.) in the State of Rhode Island. My treatments consist of acupuncture, but may include moxibustion, cupping, qua sha, Chinese herb and food nutrition therapy, and qi gong.
EXPLORE OUR SERVICES »

Acupuncture
I encourage everyone to get acupuncture treatments at Trinity Wellness Center, P.C. , but ask the following questions before you decide on a practitioner:
Are you licensed to practice? Simple question, but easily overlooked. Check the Texas Medical Board website.
What is your training? Chiropractors, nurses, and medical doctors that perform acupuncture typically have abbreviated training in acupuncture and none in Chinese herbal medicine. Insist on a nationally certified Diplomate. Check here for more information on a Diplomate of Oriental Medicine. And check here to verify certification as a Diplomate.
If you have any questions, please do not hesitate to contact us. Thank you!
---
Dr. Wilson "Will" Gin | (972) 317-9355